A slice of heaven in Sardina
Posted on 5 November 2010 in Sardinia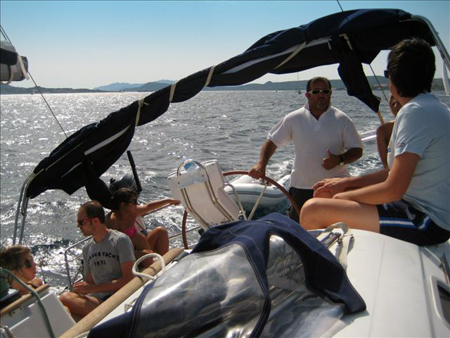 It's August and Sardinia is hot which is glorious to feel. We grab the hire car and drive the 40 minutes to Porto Rafael under the guidance of Essential Italy's perfect instructions. Sarah greets us with a huge smile, leads us to Rosetta and so starts a week of bliss. We wake to beaming sunshine, a view from the bed across the blue sea with the whites of sail boats to the island of La Maddelena. The smiling begins.
Rosetta is a slice of heaven. Perched on the hill with that view which, let me tell you will take up hours of your time, the accommodation is what it says it is. A small apartment offering everything you need. A bed, somewhere to hang your clothes, a kitchen, a beautiful bathroom with original painted tiles, a table to eat on and the terrace.
Our first day was made up of a wander to the shop, coffee and breakfast on the terrace and looking at the view. Three hours later we thought we'd find the beach. About 30 steps down and we are on it! The most beautiful, small, quaint, quiet and perfect beach. We plonk ourselves and re-start the watching.  The waves, the boats, the quiet comings and goings of a few Italian tourists, we occasionally venture into the sea and we smile. And so the format of the holiday is set.
Never in our lives have we done so little. Never did we think that we could do so little and enjoy it so much. Never did we ever think we would be able to do so little and get away with it. Our lives as parents, partners, workers, friends and daughters are relentless – this is what we needed. This is what after just one day we concluded the NHS should offer all mothers (and fathers!) a week in the sun with nothing to do. Our heads were empty.
So the week went on. We ventured out on trips to lovely local markets, to La Maddelena and into the countryside and always considered a different beach. But we always ended up back at Porto Rafael. We couldn't find one reason to be on any other beach – especially as one of the Porto Rafael cafes also served the best chocolate ice cream which we couldn't bear having to miss.
We did spend one day on a sailing boat which took us out into the Med, to the amazing unspoilt islands of Italy and Corsica, where we anchored and were served the most delicious lunch made by the Captain of the boat who then continued to sail us past sandy coves, over the bluest, clearest seas whilst we of course relaxed and smiled. A sailing boat trip is a must – it was the most perfect day! It is purely selfish reasons that has prevented me writing this and sending it to Essential Italy until now.
We did of course tell Helen and Sarah how wonderful their accommodation is, how the service pre-holiday was faultless, how Sarah's local knowledge, in resort support and company was a joy, and how we want to have a holiday like this every year. But the truth is I'm not sure I want anyone else to know about Rosetta and Porto Rafael and how perfect it is, but also  know that not to spread the magic of this place would prevent others smiling like fools for a week. And that is something everyone needs.
Anne Marie Francis | Worthing | UK