4 things to do in San Gimignano
Posted on 13 August 2015 in Italy, Tuscany
San Gimignano is one of the most beautiful and fascinating towns in Tuscany, with its unique buildings boasting a rich heritage. These buildings were built by the patriarch families of San Gimignano himself, as a display of their wealth, with the tallest reaching over 50m in height. The town has plenty of other delights to offer, however, and we've got just a few suggestions of how to enjoy your time in San Gimignano, which is just a short distance from our Tuscany villas: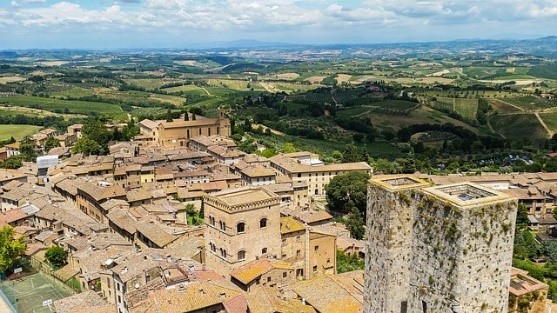 Explore La Rocca di Montestaffoli
La Rocca di Montestaffoli is the historic 14th century fortress which overlooks the town, surrounded by olive groves. From here you can take in some stunning views of the town below, as well as the rolling hills of Tuscany that unfold all around you. With musicians often playing music, artists bringing up their easels to paint and soak up the inspiration, and even outdoor cinemas being held during the summer, there is plenty to keep you entertained as you enjoy this hilltop delight.
Climb Torre Grossa
Out of the numerous towers built in San Gimignano over the years, Torre Grossa is the tallest, measuring 54m high. Dating back to 1298, this tower is in fact open to the public, meaning that you can scale the heights of the tower and take in the views of the picturesque countryside.
Buy wild boar salami
Wild boar sausage is a local delicacy, and can be found in gourmet shops and delicatessens throughout San Gimignano. It is available in a number of varieties, made with red wine, truffles, pine seeds or fennel, and is best served on a freshly baked baguette, drizzled with olive oil.
Sample the Vernaccia di San Gimignano
While for most people Chianti comes to mind when they are asked to think of a Tuscan wine, the vineyards around San Gimignano also produce their own specialty, the white wine Vernaccia. A crisp white wine with strong citrus flavours, Vernaccia can be bought across the town, with enotecas even serving plastic glasses to go, allowing you to sample the wine as you wander the streets.