Bishop Valentino
Posted on 10 February 2023 in Boutique Hotels, Italy, Romantic Holidays, Umbria, Villa Holidays
Italy is the perfect destination if romance is on your mind. The warmth of the sunshine, slow pace of life, sparkling sea, delicious food and wine plus the Latin love for life makes it the ultimate setting to relax in with your loved one.
Only an Italian could be responsible for such a celebration and this international day of love was founded by Bishop Valentino who died in Rome on 14 Feb 273.
This bishop, martyr and saint, was born in Terni (Umbria) and according to legend, was able to perform miracles and teach people how to recognise and experience true love. He is best known for marrying couples who were in love but could not legally marry in Rome during the reign of Emperor Claudius II who outlawed weddings as he thought they would be an obstacle in the recruitment of new soldiers. Valentino came to a sticky end when he was asked by Claudius to renounce his Christian faith and worship the Roman Gods instead.  This he would not do and so was swiftly beaded.
His last note to a young blind girl that he helped before his life ended was simply signed "from your Valentine" from which the tradition was born of sending a note or a card to your beloved with the same words.
Throughout the years since Valentino died, people have prayed for him to intercede on their behalf about their romantic lives. Numerous couples have reported experiencing miraculous improvements in their relationships with boyfriends, girlfriends, and spouses after praying for help from San Valentino.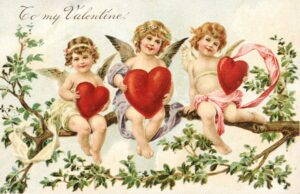 Known in Italy as the "Festa degli Innamorati" (the festival of those in love) you can greet family and friends with a cheery "Buon San Valentino".  Chocolates, prosecco and red roses are the most popular gifts and should you wish to whisper some sweet Italian nothings into someone's ear…….
Amore mio – My love
Tesoro mio – My treasure
Ti adoro _ I adore you
Il mio cuore batte solo per te – My heats beats only for you
Sei la persona dei miei sogni – You're the person of my dreams
Ti amo oggi e sempre – I love you now and forever